Dietary supplement
with anti-aging formula
Inside to be perfect
outside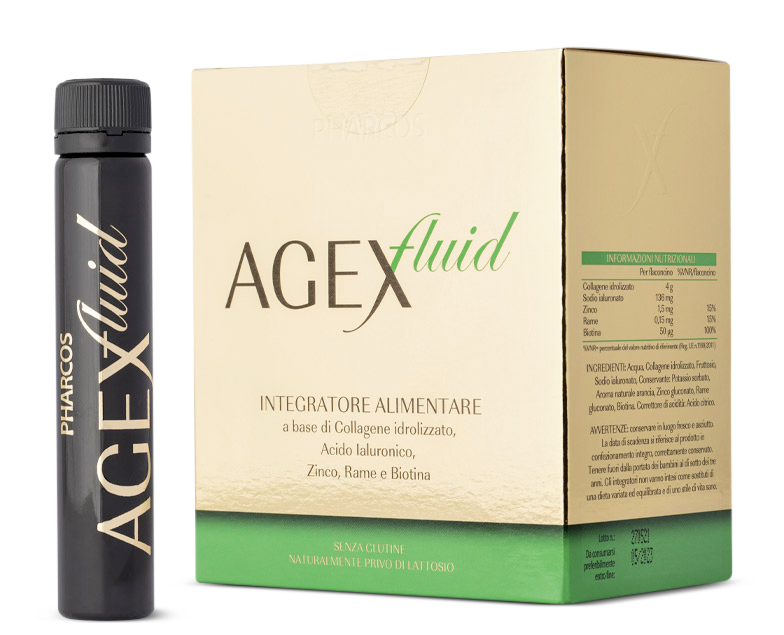 Nourish your beauty
with a simple gesture
The dietary supplement with new generation, anti-wrinkle formula.
Agex Fluid is formulated to act from within, giving the skin the nutrients it needs to stay young and beautiful.
Each vial contains:
Bioactive collagen peptides (VERISOL®) obtained through a controlled hydrolysis process. These stimulate the production of new collagen fibers, elastin and Hyaluronic Acid
High-purity hyaluronic acid for deep moisturization
The synergistic complex of Zinc gluconate and Biotin that contributes to the maintenance of healthy skin
Copper gluconate that contributes to normal skin pigmentation
Active substances present in a bioavailable, effective, pure form.
The synergistic action of collagen peptides and hyaluronic acid makes the skin noticeably more supple, firm and hydrated. Expression lines and wrinkles smooth out: making the dermis appear smooth and radiant.
How Agex Fluid works
Agex Fluid is a dietary supplement with a unique anti-aging formula: studies on its peptides have proven its effectiveness.
The controlled hydrolysis process makes collagen peptides easy to absorb and able to stimulate the production of collagen, elastin, and hyaluronic acid.
The action of the collagen is enhanced by association with naturally derived hyaluronic acid, which nourishes the skin, increasing elasticity and hydration.
The formula is enriched with a complex of biotin and mineral salts in organic form, which are highly bioavailable and help keep the skin looking young and healthy.
Diversi studi clinici pubblicati dimostrano questi risultati in poche settimane:
Una pelle più tonica
La diminuzione della profondità delle rughe
Una migliore idratazione
I peptidi di collagene contenuti in Agex Fluid si sono dimostrati in grado di ridurre significativamente le rughe dopo 4 e 8 settimane di trattamento. Dopo 8 settimane è stato rilevato un aumento del contenuto di procollagene di tipo I (65%) e di elastina (18%).
Vuoi più informazione sugli studi su Agex Fill? Contattaci ora.
Recommended daily dose:
One vial a day. Do not exceed the recommended daily dose. Shake before use.
GLUTEN-FREE
NATURALLY LACTOSE FREE
Format: Five 25 ml BOTTLES
NUTRITIONAL INFORMATION
Per vial
%VNR/vial
Hydrolyzed collagen
4 g
Sodium hyaluronate
136 mg
Zinc
1,5 mg
15%
Copper
0,15 mg
15%
Biotin
50 µg
100%
%NRV = percent of nutrient reference value (EU Reg. EU no. 1169/2011)